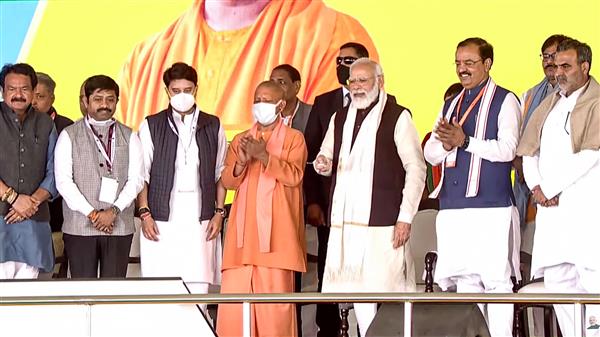 Prime Minister Narendra Modi has laid the foundation stone for Noida International Airport at Jewar in Uttar Pradesh on 25 November 2021. It will be one of the largest aerodromes in Asia.
The airport, the second international aerodrome in Delhi-National Capital Region, is expected to be operational by September 2024 with an initial capacity to handle 1.2 crore passengers per annum.
The airport, spread over 1,330 acre of land, will be developed by Zurich Airport International AG. It will be the fourth largest international airport in the world and the project will create more than one lakh job opportunities.
Phase-I of the aerodrome is being done at a cost of more than Rs 10,050 crore, and the groundwork regarding land acquisition and rehabilitation of the affected families has been completed.
The airport at Jewar will help decongest the Indira Gandhi International (IGI) airport in the national capital. It is strategically located and will serve the people of cities including Delhi, Noida, Ghaziabad, Aligarh, Agra, Faridabad and neighbouring areas. The airport will also be the country's first net zero emissions airport.
The Noida airport will also be linked to the planned Delhi-Varanasi High-Speed Rail, enabling people to complete the journey between Delhi and the airport in only 21 minutes.
The airport will also house a state-of-the-art Maintenance, Repair and Overhauling (MRO) service. The design of the airport is focused on low operating costs and seamless and fast transfer processes for passengers.
The airport will develop a Ground Transportation Centre that will feature a multi-modal transit hub, housing Metro and high-speed rail stations, taxi, bus services and private parking. This will enable seamless connectivity of the airport with road, rail and Metro.